The straw(s) that may have finally broken the camels back - September 13, 2016
Under normal circumstances, Canada's stellar jobs report for August would have seen the currency rally sharply. Unemployment steady at 7.0%, full-time jobs +52.2K, part-time jobs -26.0K indicates a strong Q3 may be in the offing. However, the Bank of Canada left rates unchanged at their last meeting on Wednesday and warned, yet again, of excessive household debt. Moreover, in a speech in Thunder Bay last Thursday, Deputy Governor Timothy Lane was somewhat downbeat in his assessment of the domestic economy.

As seen below, persistent below-capacity growth constrains the BoC's ability to raise rates, while the household indebtedness mentioned earlier limits the Bank's room to cut rates. In his speech, Mr. Lane mentioned other troubling aspects of the economy: the drop in petroleum sector capital spending, weak commodity prices, sluggish exports, etc. None of this argues for a rate hike anytime soon so, regardless of the excellent jobs numbers on Friday, CAD sold off sharply.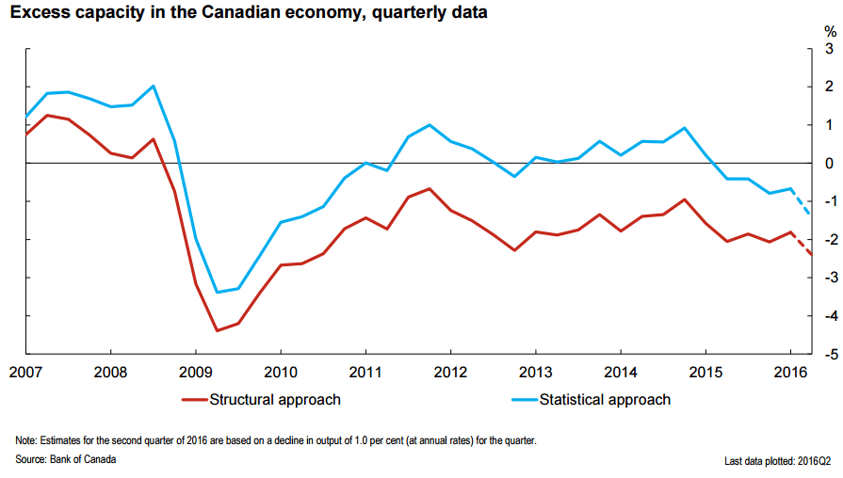 It appears that the BOC, along with the BOJ and other central banks, still rely on the US Federal Reserve to do the heavy lifting in the form of rate hikes. Given recent developments, they may get their wish rather soon.

Last week saw the beginnings of, perhaps, the long-awaited and oft-forecast end of the global bond and equity rally and, in turn, a corresponding USD and JPY 'risk-off' rally. A number of small, apparently discrete events occurred that, taken as a whole, may finally have broken the camel's back. In no particular order, here are some of them:
Two little-noticed Eurozone corporate bond issues – French drugmaker Sanofi 3 year notes and German household products maker Henkel AG 2 year notes – were priced at the remarkable rate of -0.05%, the first non-financial corporate paper with negative yield.
The Bank of Japan, despairing of the virtually flat yield curve from two years out to 30 years, contemplated selling the long end and buying the short end in an attempt to steepen the curve. Market took note and promptly sold off the long end and selling spread to other asset classes.
BB-rated bonds bounced off 0.00% yield, looking to follow BBB-rated bonds into negative yield.
Last week Thursday, Mario Draghi of the European Central Bank spoke a lot but said – and did – very little. While saying that QE would continue until its scheduled finish in March 2017, overnight rates were left unchanged and the ECB committed to maintaining low rates into the foreseeable future. Analysts have pointed out that there may be a paucity of bonds for the ECB to purchase in its QE programme, some suggesting the supply of eligible bonds might dry up late this year. What that implies for negative rates is unclear, but given that the ECB is price-insensitive, one might think that negative rates will be here for a while yet but investors may be rebelling. Bond buyers have gone on strike in the past, most notably 1979-81 when, for example, Canada's prime rate topped 22%, might that be happening again?

In the UK, Bank of England Governor Mark Carney was put on the defensive over his anti-Brexit remarks last spring. As we have pointed out in previous newsletters, the UK economy is doing rather well post-Brexit but, nonetheless, Mr. Carney stood firm on the BoE's analysis. Bear in mind, though, the uncoupling from the EU is well in the future and political developments in the EU itself – especially the rise of right-leaning populist parties - may change the whole picture entirely. Aside from that, the BoE cut rates as expected and boosted QE to GBP435 bln.

In America, Boston Fed chief Eric Rosengren, in a speech last Friday, stated that 'a reasonable case can be made' for raising rates, arguing that 'a gradual tightening is likely to be appropriate'. Notwithstanding the almost-total absence of major US economic news last week and a disappointing print on Services PMI (51.4, lowest since February 2010), Mr. Market is once again pricing in a near 40% probability of a rate hike on September 21st.
Despite the ongoing economic problems in Japan and the possible review of BOJ policy, JPY rallied on its traditional 'safe-haven' status, along with the USD. Both currencies may see further gains if 'risk-off' accelerates this week. Doubtless the BOJ, along with the Ministry of Finance (MOF), will be quite displeased with any JPY strength.