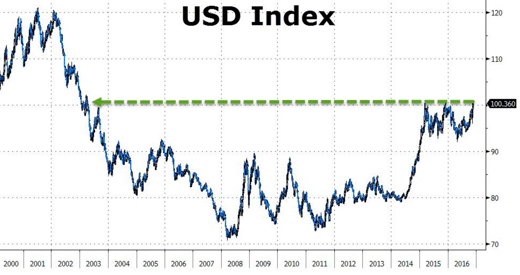 The bond market, not surprisingly, ran in fright from all these positive developments and sold off sharply. US 10-year Treasury bonds traded through 2.00% yield, closing the week around 2.30% and the bellwether 30-year bonds touched 3.00% yield. As can be seen from the chart below, the bias is definitely to the upside. The important thing to bear in mind here is that, with Fed Funds trading in the ¼ - ½% range, strong upticks in 10- and 30-year bond yields mean the yield curve is steepening, a situation which, for banks, is enormously profitable. Borrow short, lend long! And Mr. Trump has stated he would like to reform or just get rid of Dodd-Frank, the 2008-era banking legislation faulted by many for current banking industry doldrums. Total repeal is unlikely but simplification is the most probable outcome. Such banking deregulation coupled with a steepening yield curve has made banking stocks very attractive, and the sector was among the best performers in the market's recent rally.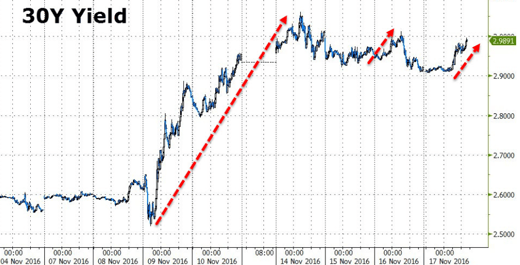 Although eclipsed by recent surprising developments in America, there were doings elsewhere. OPEC continued its vain struggle to set production quotas and limits for its member states, and crude did rally at one point last week following Russian remarks about a 'big chance' for an OPEC deal, but, sadly, nothing further developed and WTI continued trading around $45 USD/bbl. Aside from the usual difficulty in achieving a semblance of consensus amongst the cartel's member states, a rallying greenback puts downward pressure on crude and commodities in general, as all are priced in USD; thus the outlook for an OPEC agreement is as dim as ever.
Interesting factoid: The government of Saudi Arabia requires oil at $80 USD/bbl to achieve a balanced national budget.
There was little of note out of the Eurozone, save that area politicians are still trying to determine the best means of responding to President-elect Trump. The populist revolt first seen in Brexit and now in the recent American election may spill over to the Italian referendum set for December 4th. Eurozone elites are concerned about a loss there (and the resignation of PM Matteo Renzi) paving the way for the eurosceptic Five Star Movement achieving power in a subsequent election. As well, next year sees elections in France, Germany and the Netherlands, and the question is whether the populist uprising unleashed in the UK will continue. France's Front Nationale, led by Marine le Pen, is being taken seriously by the French political class, with French PM Manuel Valls admitting that she could indeed win in the first round of balloting next May. Analysts are sceptical of her chances in subsequent rounds, but their track record of predictions in recent months is, to put it mildly, not very good.
In the Far East, the Bank of Japan made clear that, while bond yields may be rising in America and elsewhere, that won't be happening any time soon in Japan. The BoJ has a policy of maintaining a 0.00% yield on the 10-year Japanese Government Bond (JGB) and, with recent upward pressure on yields, countered by bidding aggressively on 2- and 5-year JGBs. No one hit the bids, but the point was taken – rates are not rising here. With Treasury/JGB yield spreads widening the Yen had to give, and it ended up the big loser on the week. (Which is likely what the BoJ wanted all along).
To finish this blog entry, we will once again take a look at the USDX and how well the 'golden cross' has been progressing since we first alerted you of its pending cross in the October 17th post.
As is evident, the 50 day moving average (in blue) continues to widen its lead over the 200 day moving average (in red), suggesting that Superbuck may be poised for yet more gains. Having said that, the technical indicators are stretched so a pause in the uptrend is in order.